Check Services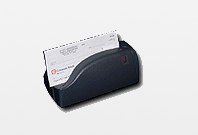 What is Merchant Check Conversion / Guarantee?
The MPC Check Services program allows you to electronically convert, process, and deposit personal paper checks directly into your bank account without the need to physically go to the bank to deposit the check. For high risk merchants, you will need a special gateway setup where the banks in the network allow for higher risk transactions. These may be frequently related to loan payments processing or credit repair services who may have been declined or shut off by a traditional bank or processor.
The Check Guarantee program guarantees payment on checks written within the program guidelines thus protecting you from the risk and monetary loss associated with 100% of the face value of the returned check.
How Does It Work?
The program is administered through the use of an external check reader (connected to the Merchant Diamond) provided by EtelCharge.com.
Your customer will still pay with a normal paper check, but you will swipe the check through the check reader.
The check reader reads the magnetic ink encoded at the bottom of the check, checks the account for fraudulent activity and then completes the check transaction electronically by debiting your customer's bank account and crediting your bank account.
What are the benefits to you?
Reduced Handling Costs – No more daily trips to the bank. This can cost you significant expense on gas alone – not to mention lost time to and from the office
Reduced Bank Deposit Fees
Automatic Fraud Protection – Bad personal checks now become the responsibility of Merchant Processing up to $300
Save Time with Daily / Weekly / Monthly Bookkeeping
To get started with Check Services
Call Us to Get Started Today!