Receipt Capture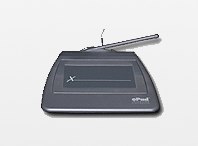 What is Receipt Capture?
You are required to maintain one receipt of every transaction for your records.
Receipt capture allows you to capture your customer's signature electronically instead of on a paper receipt.
If your customer disputes any charges then you can produce this electronic copy of the receipt to provide proof of sale.
If you are not able to produce a receipt on a disputed charge then your customer will typically have those charges reversed from their account, and you will not get paid!
How Does It Work?
You will process an electronic transaction (credit card, pin-based debit card, or check conversion) through the normal procedure using the Merchant Diamond.
Your customer will sign the receipt capture pad (like you see in most large businesses today) instead of a paper receipt.
You can print a copy for the customer but will NOT need to print a separate copy for your records.
At the end of the day the Merchant Diamond will batch the daily transactions receipts to the Merchant Server and store them electronically for you.
Benefits of Receipt Capture
Reduce Chargebacks and save money – we keep the receipts for you!
Convenience – no more printing and keeping receipts.
Reduce printing – no need to print your receipts, which means less paper and less cost for you.
To get started with Receipt Capture
Call Us to Get Started Today!