Gift Cards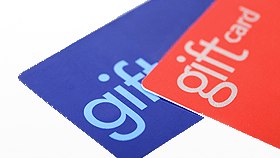 What are Gift Cards
Gift Cards are quickly replacing gift certificates as the choice among retailers, restaurants, and service providers.
Gift Cards look and feel just like credit or debit cards.
However, gift cards have specific amounts of money loaded on the card and can only be used at the business that issued the card.
How do they work?
One of your customers decides to "purchase" a gift card and wants to load a certain amount of money on the card.
You can accept any form of payment (cash, credit/debit card, check, etc.) from your customer to pay for the amount loaded on the card.
Once your customer pays for the new gift card, you swipe the gift card through the Merchant Diamond, and encode the card with the dollar amount loaded on the card and other necessary information.
Now your customers can use that gift card in the future at your place of business, just like a credit/debit card, up to the dollar amount loaded on the card.
What is the Benefit to You?
Increase in Revenue – 61% of all gift card users spend more than the original amount purchased.
Repeat Business/Customer loyalty – 54% of all gift card users make at least 2 trips to use the purchase amount on their gift card.
Value Not Redeemed – 27% of all gift card values are never redeemed, resulting in pure profit to you.
Cash Float – The average gift card user waits about 60 days before using the purchase value.
To get started with Gift Cards
Call Us to Get Started Today!